Tip #1 Is your summer tan starting to fade? Are your legs losing that nice color?
A tip for keeping that nice glow: mix Ageless Sun self tanner with moisturizer in your hand, and then apply to damp skin. This spreads more evenly, which is the key to using self tanner and adds both color and moisture for a nice finish.
Ageless Sun  & Divine Skin Hydrator
Tip #2  As fall days get cooler it's easy to forget about sunscreen.
Do not leave out this important protective step! It is vital for keeping your skin younger looking long-term, and cancer-free. The damage that happens today will show all over your face in 10-15 years. Choose products that are multifunctional, including foundation with a good SPF, and a BB/CC crème that saves time.
Tip#3 Pumpkin enzymes for your face. 
Pumpkin is not just for Halloween and pumpkin pie – it's also an excellent exfoliant! Exfoliation is one of my favorite topics and a key to overall better skin. There are many different methods to use but for those with sensitive skin the choices are limited. Combining pumpkin with other fruit enzymes from papaya and pineapple creates a mix that effectively gobbles up dead skin cells and minimizes any irritation.
Tip #4  Chilly Mornings and Warm Showers
On a chilly morning, a warm shower feels great. The longer you stand under that hot water the drier your skin becomes. Additionally, in most parts of the country the humidity is lower, which also makes your skin feel dry. Keep your shower shorter and cooler for better winter skin.
Tip #5 The Heat is On!
The heat is on and my skin instantly feels tight. The change in the humidity level indoors makes our skin feel rough when we turn on the heat. Our hands seem to become dry overnight, especially the cuticles . Before bed, wet your hands and apply Divine skin hydrator. The vitamin B5 and shea butter in Divine help hold in the moisture and protect your hands. Divine Skin Hydrator
Tip #6  By January our skin is feeling the effects… 
Regardless of where you live, by January our skin is feeling the effects of the super dry climate of Colorado or the overheated buildings of New York. These effects include itchy backs and dry arms and legs, even for those with oily/combination skin on their faces. The rest of our bodies become dry. To remedy this you need to hold the moisture in your skin, which makes your skin feel better immediately. Natural Moisture Factor
Tip #7  Do you like to wear socks to bed in the winter?
If you like to wear socks to bed in the winter, multitask by doing a foot-saving treatment before bed. First, grab your favorite scrub, and do my favorite thing – exfoliate. In the shower or tub, use a scrub on your feet with lots of grit, not one that dissolves when you add water (what good is that?).  Pat dry and add moisturizer (Divine skin hydrator). Next put on your socks and be careful to not slip on your floor.
Divine Skin Hydrator and Rough Love Body Scrub
Quote: "Good skin care is not about the newest ingredient discovery or best new laser treatment. It is all about consistent, long-term maintenance. Beautiful skin at 40, 50, or even 70 is a little about the genes you received from your grandmother and a lot about moisturizing, sunscreen, and my personal favorite – exfoliation."

If you didn't start at 20, START NOW, no matter what your age.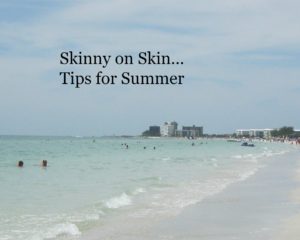 Tip #1   Exfoliate, Exfoliate, Exfoliate!
Get rid of those dead skin cells whether it's your body, face or feet. Removing dead skin cells allows everything you apply to your skin to work more effectively.
Tip #2   Taking Care of your Tootsies!
Gently use a pedicure file on calluses. Over doing can make your feet sore. Use a good gritty scrub (not lotion with little bits of scrub) rub all over feet then follow-up with hydration.  Apply Divine Skin Hydrator while feet are wet. Put on socks and your ready for bed. (Feet can be slippery so be careful)
* Best New Summer Shades for your toes…pale blues and bright coral for a great new look!
Tip #3   Better Body!
Yes, your legs can look better no matter what your age. Improving texture make's your legs ready for summer. First, get the old dead skin cells off. Get that scrub you use on your feet (we like Rough Love Body Scrub). Concentrate on ankles and knees where the dry, dead skin cells like to build up. Rinse and hydrate while wet.
 Tip #4   Exfoliate or Not to Exfoliate your face in the Summer?
Important fact: exfoliating the dead skin cells smooth's skin's surface, evens skin tone, and promotes new cell growth. It also makes the skin more sun sensitive. So be cautious. There many ways to exfoliate gently with low level glycolic acid and fruit enzymes to more aggressive peels and dermabrasion.
Tip #5 Regular Exfoliation = Better Skin!
Consistent but gentle for summer, low percentage of glycolic acid used regularly is one choice. Natural enzymes work to digest the dead skin cells. Pumpkin enzymes not only gobble up dead cells but also improve texture.
Combine that with papaya (papain enzyme) and pineapple (bromalin) for a very effective but gentle exfoliation.
Tip #6 Commonsense and Sunscreen
There are two types of sunscreen ingredients. One type is physical (zinc oxide, titanium dioxide). They are the white creams lifeguards wore on their noses and this works like putting on a shirt.
The other type works in your skin absorbing the sun's rays. There is a long list of these and they don't feel as sticky when applied. A few of these may cause sensitivity.
Many sunscreen products are a combination of both types of these ingredients. So use common sense and find the one you like. Re-apply often if you are at the shore (the beach for those of you not from the east coast). If you are in the office use a good 15-20 SPF on your face, add more where needed.
Tip #7 The Perfect Summer Facial Accessory
This lightweight, multitasking foundation is a favorite for all and here's why…
Use coupon code TIPS at checkout for Free Shipping
//albertiniinternational.com/wp-content/uploads/2012/03/albertini_logo.png
0
0
Janice Petit de Mange
//albertiniinternational.com/wp-content/uploads/2012/03/albertini_logo.png
Janice Petit de Mange
2016-06-07 11:55:54
2016-10-26 18:11:24
Skinny on Skin Tips for All Seasons