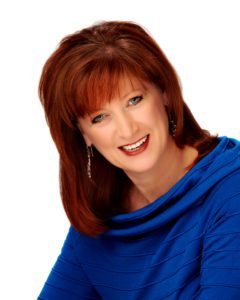 Welcome to my new blog! My name is Valorie Albertini – thanks so much for joining our discussion!
A few years ago as my hormones started to change with menopause, so did my skin, similar to thousands of women my age. For the first time in my life my legs and arms were dry and itchy. Although I shouldn't have been surprised, I felt as if I just woke up one day with dry skin. Many of my friends and clients were telling me exactly the same thing. My friend Paula said, "I am absolutely certain this wrinkle by the side of my mouth was not there yesterday!!!"
I've spent 30 years in the beauty industry, working with clients' skin and hair problems. For many years I worked for major skin and hair care companies, lecturing all over the world. Most of my focus has been developing and testing skin and hair care products. So, I went to work to solve the skin problem that was irritating me and many others our age.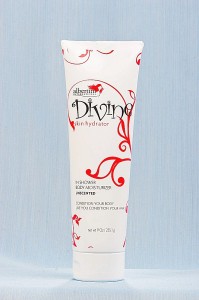 As we go through menopause we lose our Natural Moisturizing Factor and the ability to hold water in our skin -read more about Menopause and NMF. So I designed a product to help restore that moisture barrier, and Divine skin hydrator was born. It is applied in the shower to help replenish the moisture (water) that your skin has lost. As my friend Mary said, "It is so much easier to apply moisturizer in the shower, than later when I'm having a hot flash. And the great thing is, IT WORKS!!"
Albertini International creates products For Women Old Enough to Know and Young Enough to Care. We still want to look good, but we hate it when beauty companies don't give us the straight "skinny" on what their products actually do. Our Baby Boomer minds may be a little numb to the fact that we are aging, but nevertheless our skin continues to age. And I promise never to have a 25 year old in an ad tell you about wrinkles!!!

By the way we don't test on animals. My dog Coco and cat Boots would never allow that! Instead, our friends and customers volunteer to be Albertini International "test bunnies"! If you are interested in working with us as a "test bunny", testing our future products, keep an eye out in our blog for opportunities. Albertini International products are designed for women who have common sense and a sense of humor!
I'd like to have an open dialogue about your skin problems and what is on your mind. So, why don't you take a moment, join this discussion and let me know…what is your most annoying skin problem right now???
Please follow and like us:
//albertiniinternational.com/wp-content/uploads/2012/03/albertini_logo.png
0
0
Diannna Thorne
//albertiniinternational.com/wp-content/uploads/2012/03/albertini_logo.png
Diannna Thorne
2012-05-22 10:51:07
2012-05-31 16:27:57
The Skinny on Skin