Description
Exfoliating and Detoxifying Treatment

Smooths and softens skin
Refreshing salt mud fusion
Fragrant rosemary and eucalyptus oils
Removes impurities in skin
Helps hydrate skin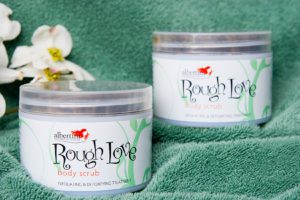 WHEN TO USE IT
Use Rough Love body scrub in the shower after cleansing and before applying Divine skin hydrator. You may use Rough Love body scrub 1 to 5 times per week; each individual's skin is different. Use a small amount of product to smooth dry and rough areas.
HOW TO USE IT
Apply generous amounts of Rough Love body scrub to your skin while you are in the shower or tub. Gently massage into your skin using a circular motion, then rinse with warm water. Follow with Divine skin hydrator onto the damp skin. Rough Love body scrub is not for Facial Use.
RESULTS
Rough Love body scrub removes dead skin cells from your body, resulting in smoother and softer skin immediately. Follow the scrub with Divine skin hydrator relieves itchy, dry, flaky skin all day, and helps restore your skin's Natural Moisture Factor.
INGREDIENTS
Sodium Chloride, Glycerin, PEG-8, Silt, Pumice, Silica, Polyglyceryl-10 Dipalmitate, Rosmarinus Officinalis (Rosemary) Leaf Oil, Rubus Chamaemorus Seed Oil, Algae Powder, Spirulina Platensis Powder, Algae Extract, Citrus Medica Limorum (lemon) Extract, Lactobacillus/Wasabi Japonica (Wasabi) Root Ferment Extract, Lacobacillus/Ganoderma Lucidum (Reishi Mushroom) Extract/Lentinus Edodes (Shitake Mushroom) Extract Ferment Filtrate, Olea Europaea (Olive) Leaf Extract, Peat Extract, Spirulina Subsalsa Extract, Sea Salt, Menthol, Water (aqua), Propylene Glycol, Diazolidinyl Urea, Methylparaben, Propylparaben
Discontinue use if irritation occurs.
Please follow and like us: