Description
Special
$64
Regularly $85
For both a  bottle of Vitamin C Facial Serum and 
NEW Hyaluronic Rejuvenating Serum face & body
NEW Hyaluronic Rejuvenating Serum face & body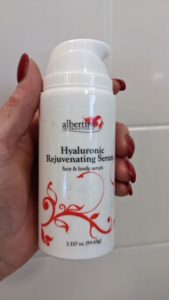 Vitamin B5 and Hyaluronic Acid promotes long-term hydration and healthy-looking skin.

Hyaluronic Acid face & body serum rejuvenates and nourishes dry rough skin

Anti-Aging boosted with Vitamin B5 and Niacinamide (Vitamin B3)

Rejuvenates your décolleté ,neck with Hyaluronic Acid and Niacin

Hyaluronic Acid plumps our skin when we are young and we loose this natural substance as we age.
Works to help even pigmentation and reduce fine lines and wrinkles.
This Revolutionary Technology lasts for up to 36 hours without breaking down.
Reduce the appearance of damaged skin, discolorations, dark spots, pigment associated with hormones.