Description
Hyaluronic Special
 Hyaluronic Rejuvenating Serum face & body
 Divine Skin Hydrator and Did You Mist Me
$25.00
Includes a full size bottle of our NEW Hyaluronic Rejuvenating Serum face & body, travel size 1 oz. bottle of Divine Skin Hydrator and a purse size 1 oz. Did You Mist Me.
NEW Hyaluronic Rejuvenating Serum face & body
Vitamin B5 and Hyaluronic Acid promotes long-term hydration and healthy-looking skin.

Hyaluronic Acid face & body serum rejuvenates and nourishes dry rough skin

Anti-Aging boosted with Vitamin B5 and Niacinamide (Vitamin B3)

Rejuvenates your décolleté ,neck with Hyaluronic Acid and Niacin

Hyaluronic Acid plumps our skin when we are young and we loose this natural substance as we age.
Divine Skin Hydrator
Fragrance Free

71% to 78% of people surveyed, feel smoother skin 24 hours after application

Dry skin healing

Replaces your skin's natural moisture factor with Vitamin B 5 and Sodium PCA
Divine holds the moisture in your skin for 24 hours.
Did You Mist Me? soothing and hydrating mist 
 Lavender Hydrosol infused with Hyaluronic acid, we purposely choose local lavender
Heals sun exposed skin with Vitamin B5
Hyaluronic hydrating toner for face, body & scalp, and use before make-up
Gluten, sulfate and paraben free, not-tested-on-animals, Hint of Lavender essential oil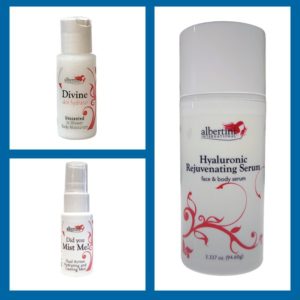 Leaping Bunny Certified