New Secret to the Best Self Tan Ever!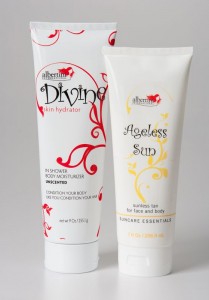 What's worse than standing in front of the mirror trying on swimsuits for the first time every spring? Well, maybe nothing! But getting that perfect self tan beforehand can make the experience much more tolerable (and maybe a sip or two of wine wouldn't hurt, either!).
We all know by now that lying out in the sun is NOT a good thing for our skin. But we really, really like having a bit of tan. So what's the trick to avoiding those awful streaks, splotches and bare spots? It turns out that a combination of products is better than just one!
                          The Terrific Trio
Rough Love body scrub – Exfoliation is the first step to getting the perfect tan. Getting rid of dead skin cells, especially on feet, ankles and elbows makes your skin smooth, a perfect canvas for applying tanner.
Divine skin hydrator – This step is the secret to getting a flawless self-tan: prepare your skin to receive the sunless tanning lotion with Divine skin hydrator. After you have exfoliated, shower off the scrub and leave your skin damp. Then apply a small amount of Divine skin hydrator to all the areas of your skin that you plan to tan. Divine gives your skin a smooth, moisturized surface which is perfect for even application of sunless tanner, giving you the best tan ever.
Ageless Sun sunless tan – This new at-home sunless tanner offers an affordable alternative to expensive spray-on tans. It goes on smoothly, has very little smell and if you follow the two steps above, results in a fabulous, even tan! One important tip: be sure to spread Ageless tan on one area at a time. For example, do the front of your lower leg, then the back of your lower leg, etc. Oftentimes, streaking is caused by putting the tanning lotion in your hand and dragging it over too large an area. Taking a little more time will give you a nice, even tan.
A great tan is what you want:  affordable, without the damage from the sun's UV rays, quick and easy. That's what our Terrific Trio of Rough Love body scrub, Divine skin hydrator and Ageless Sun sunless tan offers. Get a head start on your fabulous summer look today!
For other tips on how to get a great self-tan, visit our Ageless Sun sunless tan page.